February 2019
Student scholars from Trenton High will be visiting campus to lead a teach-in on February 22. The students represent a local collective of campus and community members who seek to address issues of educational equity and social justice through sustained dialogue and coalition building.
January 2019
Students and faculty from the Troublemakers Project met with President Foster to discuss their podcast series on the topics of motivation, behavio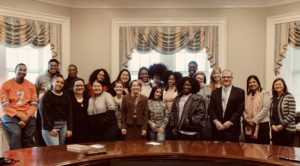 r, and normalcy in schools.