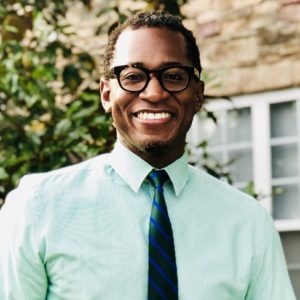 Dr. Smith earned his Ph.D. in Curriculum and Instruction (emphasis in Special Education) from the University of South Florida. During doctoral study, he developed a keen interest in the pedagogical processes and course products associated with culturally responsive teacher education. Since then, his scholarship and teaching has focused on the intersections of social identity, teaching, and learning—with particular attention on empowering teachers to act as social change agents within their spheres of influence. His scholarship has been recently published in Teacher Education Quarterly, Teacher Education and Special Education, The Teacher Educator, and Multiple Voices for Ethnically Diverse Exceptional Learners. Professor Smith has also provided professional development workshops and trainings at universities and school districts related to inclusion and diversity.
Degrees:
B.A. – Elon College (Elon, NC)
M.Ed. – University of North Carolina at Chapel Hill (Chapel Hill, NC)
Ph.D. – University of South Florida (Tampa, FL)
Recent Publications:
Smith, M. D.& Glenn, T. (2019). "Why's this man making me feel racist?": Teacher candidates' reflections on diversity course texts. Teacher Education Quarterly, 46(2), 30-58.
Chorzempa, B. F., Smith, M. D., & Sileo, J. M. (2018). Practice-based evidence: A model for helping educators make evidence-based decisions. Teacher Education and Special Education, 41(1), 82-92. https://doi.org/10.1177/0888406418767254
Smith, M. D., & Glenn, T. L. (2016). "Reflecting on the Reflection…": Exploring teacher candidates' assumptions of self and others through facilitated reflection. The Teacher Educator, 51(4), 314-334.
Smith, M. D.(2016). Reframing resistance: Steering into and through student resistance to diversity course content. In K. Brown (Ed.) and P. Alvarez-McHatton (Ed.), Helping Faculty of Color,Lanham, MD: Rowman Littlefield Education.
Smith, M. D., & Tuck, E. (2016). Decentering Whiteness as normal: Teaching about race in predominately White institutions. In S. Willie-Briton (Ed.), Transforming the Academy: Faculty Perspectives on Diversity and Pedagogy. NJ: Rutgers University Press, 13-36.