Matthew Taylor is an assistant professor in special education and received his PhD in exceptional education from the University of Central Florida (UCF). His research and classroom instruction are influenced by his eight years of teaching experience in both elementary special education and general education. His research focus is early elementary students with intellectual disabilities using science, technology, engineering, and mathematics (STEM) content, and the professionals working with special education populations (e.g., parents, teachers, and related service providers). His research is highlighted by several studies, including robotics/coding instruction for students with disabilities, collaboration with the Down Syndrome Foundation of Florida, collaboration with the Department of Human and Public Affairs using TeachLivE, and post-doctoral work at PedsAcademy collaborative through Nemours Children's Hospital/UCF in Orlando, FL.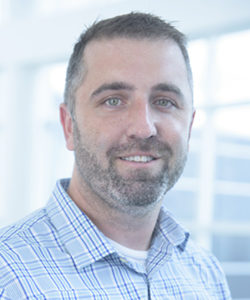 Scholarly Interests
Early Childhood/Elementary students with disabilities, students with intellectual disabilities, STEM education, technology in education, interdisciplinary education practices with related services personnel
Courses Taught
SPED 521: Assistive Technology for Students with Disabilities; SPED 322: Inclusive Practices
Achievements
Received the one of two Outstanding Dissertation Award from the University of Central Florida in 2018; was a member of the Community for Advancing Discovery Research in Education (CADRE) through the National Science Foundation (NSF) in 2018-2019; STEM Satellites and PedsAcademy at Nemours Children's Hospital Post-Doctoral Scholar 2017-2019
Scholarship
*Kelley, T., Nickels, M., Bush, S., Taylor, M. S., & Cullen, C. J. (2018). Robotics in mathematics: Three perimeter tasks. The Elementary STEM Journal. (Accepted).
*Cole, A. L., Nickels, M., Taylor, M. S., & Bush, S. B. (2018). Tigers and bears: An exploration in Scratch. Computer Science Education. (Accepted).
Nickels, M., Bush, S., Karp, K., Fralish, B., Taylor, M. S., Bush, S., & Karp, J. (2018). Computer programming: Algorithm for mathematics exploration! The Elementary STEM Journal. (Accepted).
*Abarca, D. L., Towson, J. A., Ehren, B., & Taylor, M. S.(2018). Young minds, young readers: Dialogic reading with adolescent mothers and their children. International Public Health Journal. (Accepted).
Delisio, L., Bukaty. C., &Taylor, M. S. (2018). Effects of a graphic organizer intervention package on the mathematics word problem solving abilities of students with autism spectrum disorders. Journal of Special Education Apprenticeship, 7(22), 1-22. Retrieved from: https://eric.ed.gov/contentdelivery/servlet/ERICServlet?accno=EJ1185372
Taylor, M. S. (2018). Computer Programming with Prek-1stgrade students with intellectual disabilities. Journal of Special Education, 52(2), 78-88. https://doi.org/10.1177/0022466918761120
Towson, J. A., Taylor, M. S., Tucker, J., Donehower, C., Pabian, P., & Zraick, R. I. (2018). Impact of virtual simulation on the interprofessional communication skills of speech-language pathology students: A pilot study. Teaching and Learning in Communication Sciences & Disorders, 2(2), 1-24. Retrieved from https://ir.library.illinoisstate.edu/tlcsd/vol2/iss2/2
Taylor, M. S., Dieker, L., & Delisio, L. (2018). Exhibiting what is learned: Using exhibition assignments and universal design for learning in college teaching. Innovative Practice in Higher Education, 3(2), 32-47. Retrieved from: http://journals.staffs.ac.uk/index.php/ipihe/article/view/130
2.Taylor, M. S., Vasquez, E., & Donehower, C. (2017). Computer programming with early elementary students with Down syndrome. Journal of Special Education Technology 32(3), 149–159. https://doi.org/10.1177/0162643417704439 
1.Taylor, M. S., Tucker, J., Donehower, C., Pabian, P., Dieker, L. A., Hynes, M. C., & Hughes, C. (2016). Impact of virtual simulation on the interprofessional communication skills of physical therapy students: A pilot study. Journal of Physical Therapy Education, 31(3), 81-90.http://dx.doi.org.ezproxy.net.ucf.edu/10.1097/00001416-201731030-00015 
Degrees
PhD Exceptional Student Education, University of Central Florida; Med Reading Specialist, Salem State University; B.S. Early Childhood Education, B.S. Psychology, Gordon College