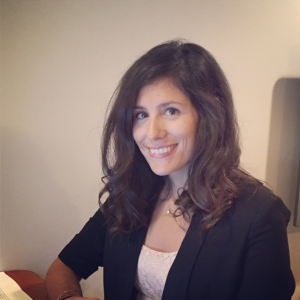 Ph.D. ASSISTANT PROFESSOR
Dr. Lauren Foxworth earned her Ph.D. in special education from The Pennsylvania State University, where she conducted intervention research to strengthen writing quality and support self-regulation skills of students with high-incidence disabilities and struggling writers. Her work has been published in several journals, including Journal of Adolescent & Adult Literacy, Behavioral Disorders, International Journal of Research in Learning Disabilities, and Exceptionality. Dr. Foxworth is a certified special education teacher (k-12), with experience teaching students with disabilities across contents in inclusive and self-contained classroom settings in the NJ public school system.  
Scholarly Interests:
Instructional methods for individuals with learning difficulties and disabilities; self-regulated strategy development; explicit instruction; interventions and instruction for strengthening reading and writing skills.
Courses Taught:
SPED 522: Remedial Instruction; SPED 609: Assessment and Remediation of Severe Reading Disabilities; SPE 490: Practicum in Special Education; SPED 597/DFHH 597: Special Topics; SPED 695: Internship II (Student Teaching)
Select Publications:
Foxworth, L. L. & Mason, L. H. (2017). Effective instruction for reading and writing-to-learn. In R. Fildago, K. Harris, & M. Braaksma (Eds.), Design Principles for Teaching Effective Writing. Brill Editions.
Foxworth, L. L., Mason, L. H., & Hughes, C. A. (2016). Improving narrative writing skills of students with disabilities. Exceptionality.
Foxworth, L. L. & Hashey, A. (2015). Helping Students with disabilities meet secondary-level writing standards using research-based writing interventions and technology. DLD New Times Newsletter, 1-5.
Valasa (Foxworth), L. L., Mason, L. H., Hughes, C.A. (2015). Essay-writing interventions for adolescents with high-incidence disabilities: A review of research. International Journal of Research in Learning Disabilities, 2, 72-97.
Mason, L. H., Kubina, R. M., & Valasa (Foxworth), L. L., Cramer, A. M. (2010). Evaluating effective writing instruction for adolescent students in an emotional and behavior support setting. Behavioral Disorders, 35, 140-156.
Mason, L. H., Benedek-Wood, E., & Valasa (Foxworth), L. L. (2010). Teaching low achieving students to self-regulate persuasive quick write responses. Journal of Adolescent and Adult Literacy, 53, 303-312.
Select Presentations:
Foxworth, L.L. Delivering Strong, Inclusive Lessons: A Review of Research-Grounded Techniques, Council for Learning Disabilities, Portland, OR, 2018.
Foxworth, L. L., Mason, L. H., Hashey, A. Improving Narrative Writing Skills of Secondary Students using Self-Regulated Strategy Development. Council for Exceptional Children, St. Louis, MO, April, 2016.
Cameron, C. & Valasa (Foxworth), L. L. An Evaluation of the Theoretical Frameworks that Drive Reading Comprehension Interventions at the Tier 2 and 3 Levels: A Review of Research. American Educational Research Association, Chicago, IL, April 2015.